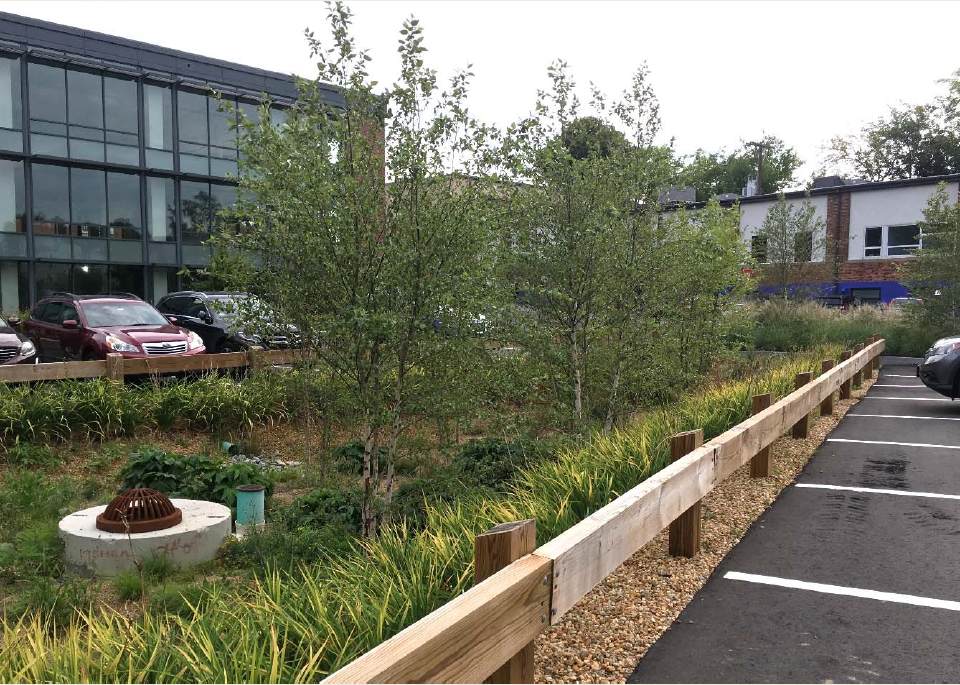 Infrastructure
Watertown's infrastructure is key to reducing stormwater runoff, minimizing waste, and reducing the Town's impact on the environment.
Stormwater comes from rainfall and snow melt -- they sound so pure, don't they? But in a town like Watertown, not enough stormwater soaks into the ground, which would filter and clean the water. Instead, most of it flows across roofs, streets, and parking lots, and all along the way it washes litter, spills, dirt, and chemicals into our storm drains, which dump it straight into our ponds and the Charles River -- unfiltered.
In addition to challenges with water quality, with projected climate change, the volume of water that our infrastructure needs to handle will be strained. Watertown already maintains an extensive system for managing stormwater that includes:

3,200 catch basins




55 miles of drainage pipe




30 stormwater outfalls
Public Green Infrastructure
Green infrastructure is an approach to manage stormwater that relies on the natural way that water is filtered and absorbed by vegetation and soils. In an urban environment like Watertown, green infrastructure has many benefits including decreasing pollution to our waterways such as the Charles River, improving air quality, and adding beautiful green spaces to our streets.
To learn more, explore the map of existing green infrastructure and read about the different types of green infrastructure you can see around Watertown!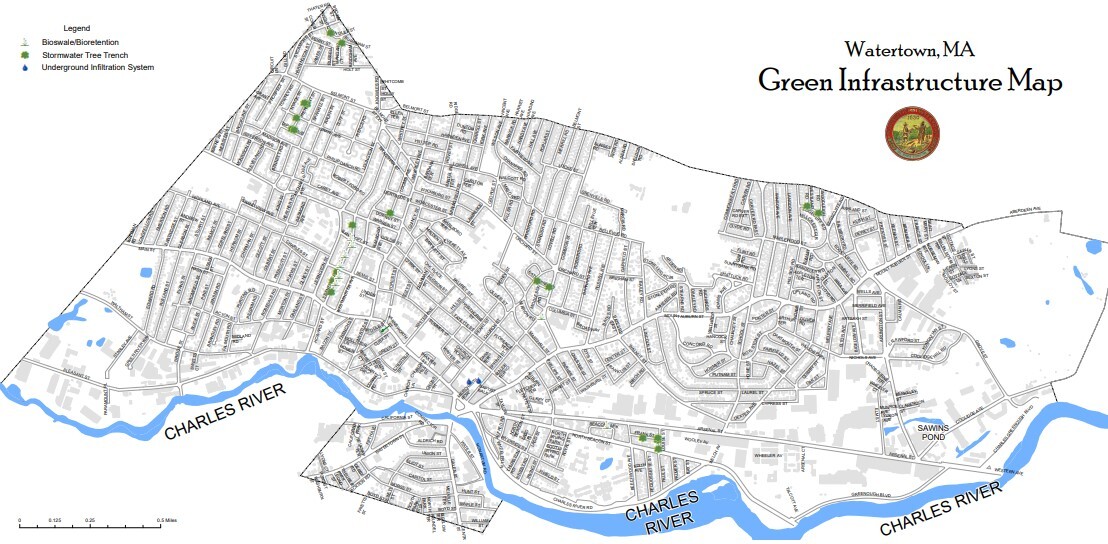 The State has awarded Watertown an MVP Action Grant for a new Equity-Based Community Greening Program! Watertown will work to identify climate-vulnerable areas of town and design interventions such as stormwater street tree trenches and green streets. A key part of this program will also entail community outreach and education about being safe during heat waves and the many benefits of green stormwater infrastructure.
Read the press release for this award and learn more about the program!
Everyone can help manage stormwater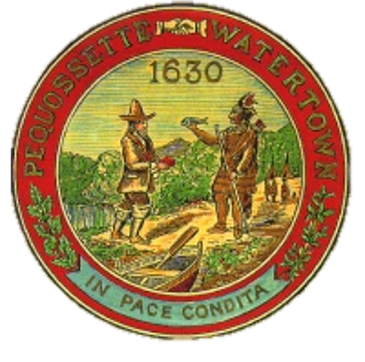 Stormwater Advisory Committee
The Stormwater Advisory Committee acts as an advisory body to the Superintendent of Public Works. The Committee will:
Develop educational programs and materials to increase public awareness of stormwater management.
Identify and advocate for stormwater funding through grants and other sources.
Review and make recommendations on stormwater ordinances and related regulations.
Perform any other tasks relevant to assisting the Superintendent of Public Works with the implementation of best practices for stormwater management.
Normal meeting are held from 4:00 to 6:00 p.m. on the third Thursday of every month at the Department of Public Works Conference Room, 124 Orchard Street, Watertown. The public is welcome and encouraged to attend meetings.
Watertown, like many communities in the area gets its water from the Quabbin Reservoir. This shared resource serves over 3 million Massachusetts residents.
It's encouraging that 2019 had the lowest overall water use though we know some of the change from year to year is due to weather conditions. For example the highest use was in 2016 during the exceptional drought that occurred that year.
Watertown has provided curbside recycling for several years. If nothing else, Watertown is consistent in both the overall quantity of waste that it generates as well as the percentage that gets recycled.
There is certainly room for improvement in the recycling rate for Watertown, but another strategy to improving the rate is to find ways to divert more of the material that is currently in the trash. Food waste is a significant part of the overall waste stream and composting this material can have significant benefits beyond reducing waste. Compost amended soils are better able to absorb water and handle rain events as well as drought conditions better.
Watertown Recycling Center
In addition to the materials that are commonly recyclable in curbside containers, Watertown also operates a drop off center for large quantities and specialty waste types.
This facility diverts a large quantity of material from landfills and provides residents another mechanism for responsibly disposing of special waste types.
It's hard to imagine, but 85% of clothes end up in the landfill.
At a special event at the
Recycling Center
, in June 2021, Watertown coordinated with
Helpsy
, the largest clothing collector in the Northeast, to recycle unwanted clothing and textiles. In one day, Watertown residents recycled
4,393 lbs.
of textiles, as well as
three
full roll-off containers of Styrofoam, and almost completely filled a truck of shredded paper.
With efforts like these, we can continue to divert waste and unwanted items from the our shrinking landfill space, and promote a circular economy that finds creative ways to reuse things and lessens our need to buy new stuff.
Composting food scraps helps divert waste from landfills and incinerators and also contributes to a sustainable food system. Compost becomes fertilizer that is either sent back to you for your own garden or sent to local farms to support their soil health.
Here are some private (non-Town sponsored) composting companies that offer curbside pick-up in Watertown.
Resources for Waste and Water Managment
While the Town is working to keep our waterways clean, most of the area in Watertown is in private property. We need everyone playing their part to improve Watertown's performance.
---
Help Manage Stormwater from Your Home
Buy a discounted rain barrel from Watertown DPW
Learn About Town Resources to Help Manage Waste